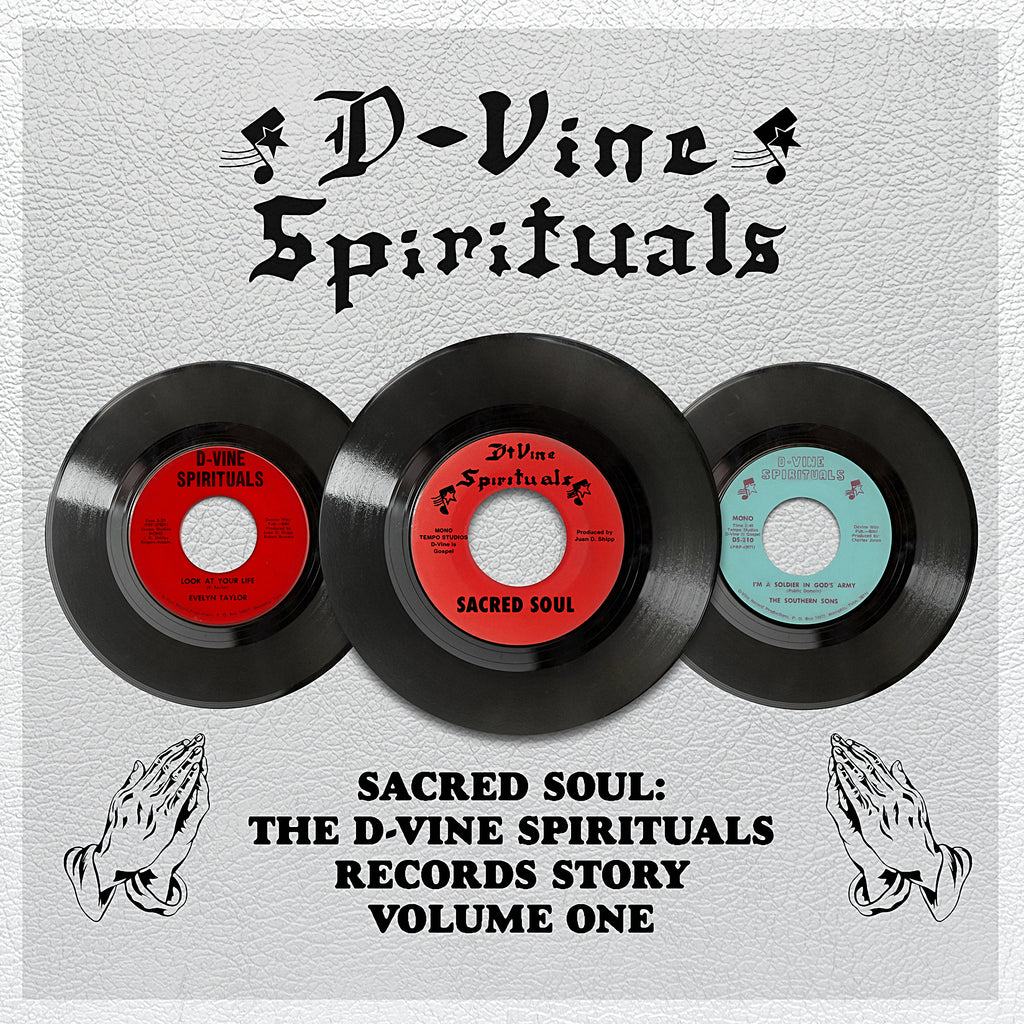 We're so thrilled to announce our reissue series for 2022!

The D-Vine Spirituals Story is an expansive look at the label and the foundation in which Bible & Tire is built upon, Memphis Sacred Soul. On January 14th we'll be releasing Volumes 1 & 2 on LP (w/ special die cut packaging) and CD.

D-Vine Spirituals was the brainchild of engineer/producer Juan D. Shipp who, to this day continues to spread the word of sacred soul as a partner of Bible & Tire and through his weekly radio show Gospel Talk: Back In The Day with Juan D Shipp for WYXR in Memphis, TN.
In 1970, while the United States was recovering from the tumultuous unrest of the sixties and Southern segregationist George Wallace was between bids for the presidency, a young black preacher and an aging hillbilly bandleader struck up a friendship in a coffee shop in downtown Memphis. For the next decade and a half, record producer Juan D. Shipp and studio engineer Clyde Leoppard embarked on a musical journey that produced some of the most stirring sacred soul music ever laid to tape. Behold the story of Shipp's D-Vine Spirituals record label, told here for the very first time since it's 45 RPM glory days, and see if you don't agree with the original company motto: "D-Vine Is Gospel."
Volume 1 Tracklist
I Heard the Voice - Elizabeth King & The Gospel Souls
I'm a Soldier in God's Army - The Southern Sons
One River to Cross - The Seven Brothers
I'm Going Home - The Gospelaires
Take Me by the Hand - The Heavenly Stars
Look at Your Life - Evelyn Taylor
You Got to Live the Life - The Supreme Travelers
God's Going to Blow out the Sun - Elder Ward & The Gospel Four
Memories - The Spiritual Stars of Kansas City, Missouri
I Feel Like Flying Away - The Joy of Memphis
The Reason I Love Him - The Kingdom Airs
Where You Gonna Run? - The D-Vine Spiritualettes
The Devil Don't Like It - The Gospel Four
When I Looked - The Traveling Stars
Volume 2 Tracklist
It's a Shame How This World Has Changed - The Gospel Wymics
Something That You Can Do - The Spiritual Wonders
Stand by Me - The M&N Singers
My Time Ain't Long - The Shaw Singers
I Know I've Been Changed - Sister Jessie M. Sherley
Jesus, He's a Miracle Worker - The Gospel Six of Tunica, Mississippi
Ring Them Golden Bells - The Southern Aires
A Change is Gonna Come - Elder Ward & The Gospel Four
The Lord's Prayer - The Dynamic Hughes Singers
I'm a Pilgrim - The Pure Heart Travelers
Never Grow Old - The Exciting Legion Aires
So Hard to Say Goodbye - The Jackson Golden Airs
I Got Jesus - The Angelic Five
I've Got to Tell It - The Southern Bells