Alvin Youngblood Hart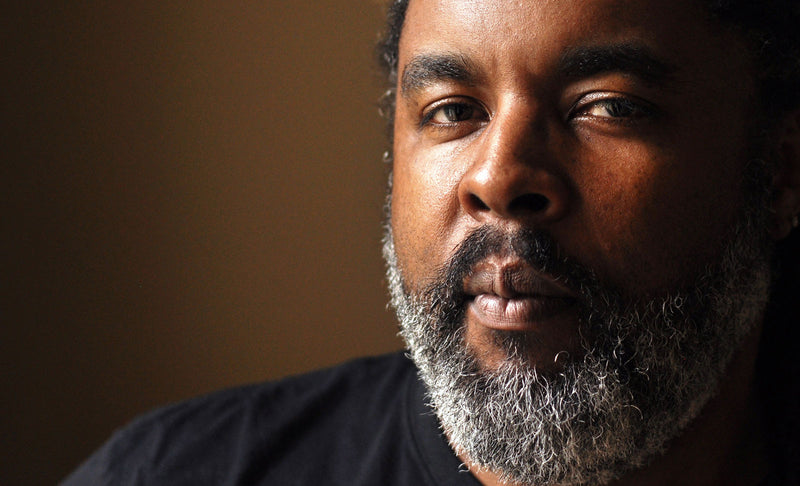 NEW ORLEANS, La. — Described as the "cosmic American love child of Howlin' Wolf and Link Wray," Grammy-winning singer and guitarist Alvin Youngblood Hart has created a bristling debut single for Fat Possum Records' subsidiary label Big Legal Mess that bridges foundational garage-punk from the 1960s, modernist rock storytelling and six-string heroism. "Helluva Way (For a Man To Make a Living)" backed with "Watchin' Brian Jones" packs two sides of brass-knuckled guitar and Hart's sweet-tea-with-raw-ginger singing onto high quality vinyl wrapped in a sleeve that captures his retro-nuevo balance with a fish-eye lens photo of the dreadlocked road warrior brandishing his Flying V guitar.
For those familiar with Hart through acoustic recordings under his own name and with the South Memphis String band, this 45 r.p.m. release is a wake-up call to the depth of his roots.
"When I signed my first record deal in 1996, it was during the zenith of the unplugged era," says the New Orleans-based Hart. "The label was promoting me as the savior of country blues. But I grew up listening to whatever was on the radio. Back then that included Les Paul guitars plugged into Marshall amps on Top 40."
"Helluva Way (For a Man To Make a Living)," which recounts some of Hart's experiences as a touring musician over the past two decades, is a flashback to the sound of Detroit-based punk forefathers the MC5, whose "Kick Out the Jams" was among the gnashing, Marshall-driven '60s anthems that influenced him as a teenager. The primal solo Hart drops into the song's core is a cry of frustration, carved out in terse, biting notes with the help of a yowling wah-wah pedal. And "Watchin' Brian Jones" weds the classic theme of girls and rock 'n' roll to a dirty ebb-and-flow rhythm guitar that's drenched in pure snarl and rides a Memphis groove.
Hart is abetted by his Memphis-based rhythm section, drummer Rick Shelton and bassist Mark Stuart, on both songs. The tunes were recorded at Dial Back Sound in Water Valley, Mississippi, and produced by Hart and Big Legal Mess chieftain Bruce Watson.
"For me, this 45 is just another piece of the puzzle," Hart explains. "My family goes back generations in Mississippi, so the blues is in my DNA, but when I was in high school I listened to everything and absorbed it, and now it's a part of what I do. I keep playing and hitting the road, hoping to defy the stereotypes that were set up for me."
Hart hit the radar of the American music scene in 1996 with the release of his acoustic debut album Big Mama's Door. He'd just completed a hitch in the Coast Guard, where repairing massive 10,000-watt tube radio transmitters gave Hart the background he needed to become an amp and instrument building guru as well. Big Mama's Door was nominated for five Blues Music Awards and won for Best New Artist.
Since then Hart has continued to tour and record. His second album, 1998's Territory, won Best Blues Album in Downbeat's annual critics poll. The Jim Dickinson-produced 1999 set Start With the Soul and 2003's Grammy nominated Down in the Alley followed. In 2004 Hart received a Grammy for his philanthropic contribution to the compilation Beautiful Dreamer: The Songs of Stephen Foster, which benefited American Roots Publishing, a nonprofit organization dedicated to preserving regional culture through literature and art.
Hart's rock 'n' roll jones fully asserted itself on 2005's Motivational Speaker, which remains his favorite entry in his own catalog. The next year he tutored actor Samuel Jackson in guitar for the starring role in the Craig Brewer film Black Snake Moan and contributed to the soundtrack. Hart also recorded the soundtrack for the Denzel Washington movie The Great Debaters.
In 2010 Hart co-founded the South Memphis String Band with Luther Dickinson (North Mississippi Allstars) and Jimbo Mathus (Squirrel Nut Zippers). Their critically heralded debut Home Sweet Home received a Blues Music Award nomination for Best Acoustic Album, and was followed by 2012's Old Times There … Hart has also collaborated in the studio and on stage with Otis Taylor, Corey Harris, Guy Davis and the late Irish blues-rock legend Gary Moore among many others.
"I really hate genres," Hart observes. "It's become such a stifling thing, especially with blues. Bruce from Big Legal Mess is not so interested in the I-IV-V 'humpty-dumpty' blues, and neither am I, so it makes sense for us to collaborate. What I like to hear, and what I like to play, is just good music."
---