Buddy Moss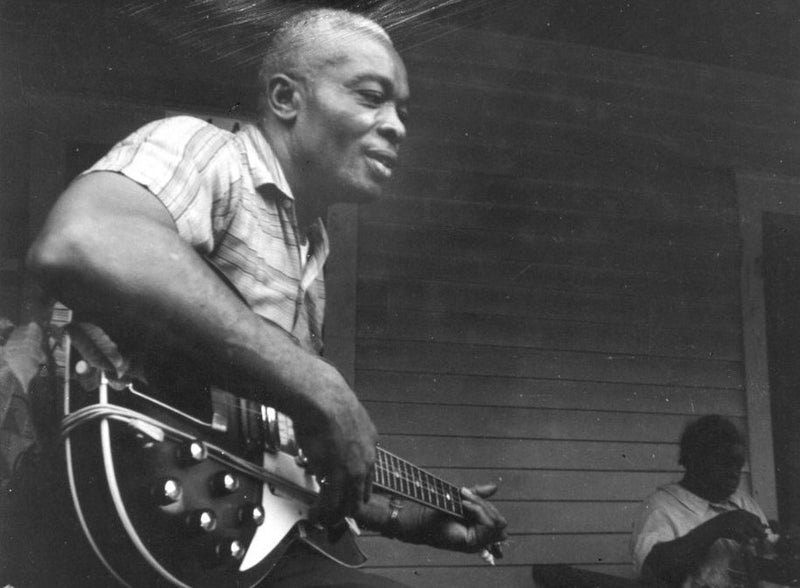 Born in 1914, Buddy Moss' first instrument was harmonica. He grew up in Jewel, a small town in Warren County, Georgia, before moving with his family to Augusta, and later to Atlanta, where he started busking. With local musicians Curley Weaver and Robert "Barbeque Bob" Hicks. Moss formed the Georgia Cotton Pickers, with whom he would make his recorded debut in 1930, recorded at the Campbell Hotel in Atlanta. Following his debut with the Georgia Cotton Pickers, Moss taught himself the guitar, and made his first records under his own name in 1933. After Hicks died of pneumonia in 1931, Moss started playing parties around Atlanta with Blind Boy Fuller, Moss was an in-demand recording artist throughout the 1930s, cutting dozens of sides for labels like Okeh and Columbia, and recording alongside Weaver, Fred McMullen, and Josh White.
In 1935, Moss went to prison for the murder of his wife in an incident that was never fully recounted or explained (Mitchell has been told that Moss killed his wife by hitting her with a guitar). Moss' good behavior and the lobbying of two sponsors willing to make sure Moss met the terms of his parole helped him get out of jail in 1941. Following his release from prison, Moss cut several sides for Okeh with Sonny Terry and Brownie McGhee, but his recording comeback was cut short when the war effort forced the industry to drastically cut back its use of the shellac that went into making 78 records. Though Moss continued performing in the areas around Richmond, Virginia, and Raleigh, North Carolina, in the 1940s, music was no longer his profession or his living. He worked on a tobacco farm, drove trucks, and worked as an elevator operator over the next twenty years. Moss performed sporadically during the blues revival years of the 1960s, but went largely unrecorded, even as peers like Josh White were finding mass audiences.
George Mitchell: After Willie Rockomo and Peg Leg Howell, Buddy Moss was the first guy I recorded outside of Tennessee. I was a freshman at Emory. Bob Koester, from Denmark, was auctioning an old Buddy Moss 78 in a Schwann catalogue, and the ad read something like "one of the finest guitarists who ever lived…if only he was still alive." I remembered hearing Moss' name from Peg Leg Howell, so I found out he lived down on Park Avenue. He was still playing, but only for himself and friends. I went down there and he didn't have electricity, so I invited him up to my house for dinner. And we had dinner, and afterwards, he played in my living room for my family, and I recorded it. That's when I realized blues singers weren't just in Memphis – they were in Atlanta, and everywhere else.
- Sam Sweet
---