Ironing Board Sam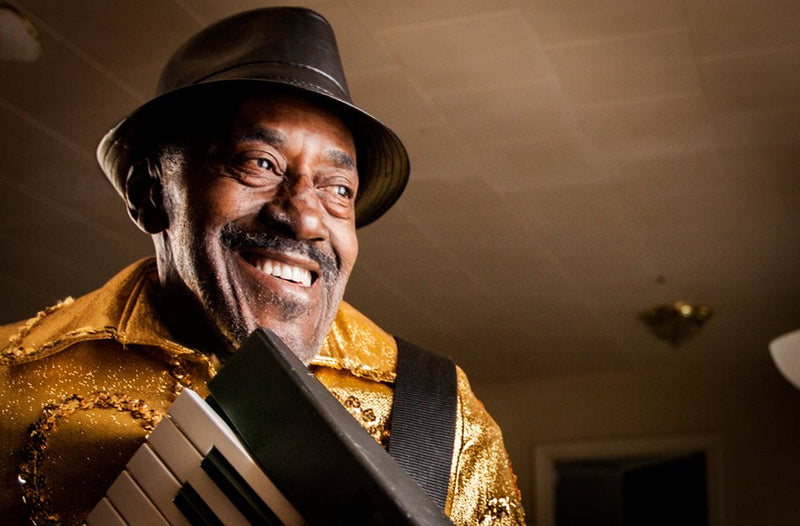 "Legendary" (Billboard) soul man Ironing Board Sam—long lost for a time—has completed a comeback to the music world. This year will see Big Legal Mess Records release his label debut 'Super Spirit' on October 2nd, a performance at the Newport Folk Festival. Already, he played at New Orleans Jazz & Heritage Festival earlier this year and Lincoln Center Out-Of-Door last year. The artist behind a series of in-demand 45s from that era, Sam was also a regular on 1960s soul TV program Night Train. eMusic has called him "a true maverick."
Click here for a 25-minute documentary
For 'Super Spirit,' Ironing Board Sam traveled to Producer Bruce Watson's Dial Back Studio in Water Valley, Mississippi to record with guitarist and co-producer Jimbo Mathus, drummer Barrett Martin (Screaming Trees), bassist Stu Cole (Squirrel Nut Zippers). Using Sam's '60s and '70s singles as inspiration, Watson chose songs from the repertoires of Ann Peebles, The Gories, Jimbo Mathus , Jack Oblivian, Roy Hawkins  and more.
A flamboyant dresser, an eccentric inventor, a philosopher, and a musical showman, Sam also became the spokesman for the Faultless Starch brand in a national ad campaign this year.
Living Blues Magazine named him Comeback Artist of the Year in 2012 and Musician of the Year (Keyboard) the following year. He toured Australia in 2013 and France in 21014. The Sydney Morning Herald (Australia) said of his Australian tour, "Ironing Board Sam, 73 years young, sang like his pants were on fire and attacked his keyboard as if it had sinned."
Ironing Board Sam was interviewed last year by PBS Newshour as part of its profile of the Music Maker Relief Foundation.
Sam earned his nickname by mounting his keyboard on an ironing board with a strap that allowed him to walk the stage while playing, much as he did at Lincoln Center in 2014, where fellow Music Maker Relief Foundation artists Dom Flemons, Beverly "Guitar" Watkins, and Albert White joined him on stage.
---