Jim Mize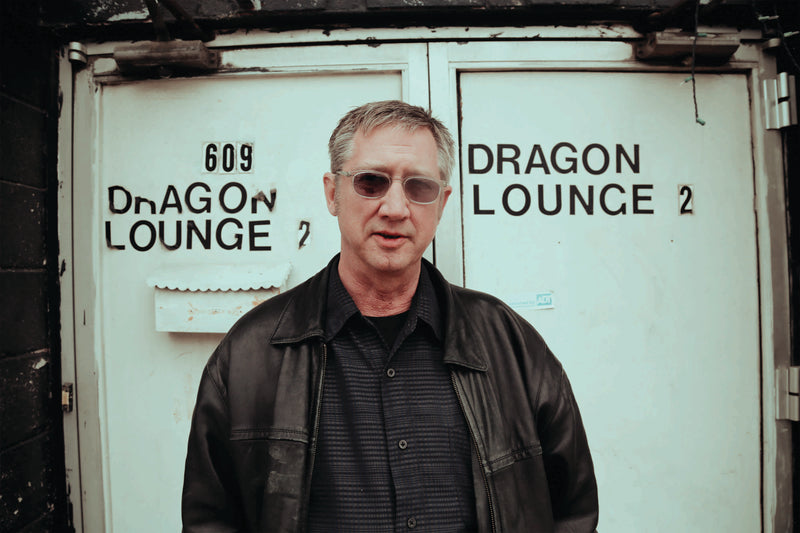 CONWAY, Ark.—The South has a legacy of great, iconoclastic storytellers — artists with a kudzu-shaded vision that cuts straight to the core of the human soul. Arkansas native Jim Mize's new breakthrough album, simply called Jim Mize, stakes his claim among them.
As its nine songs reveal, Mize is a primal rock 'n' roll visionary who colors his music with hues borrowed from blues and garage psychedelia, and writes with a stark brevity that punctuates every heartbeat of the characters who draw the attention of his pen: car parkers and bar tenders, boozehounds and love-drunk couples, the longing and the satisfied, the faithful and the lost.
Songs like "Drunk Moon Falling," culled from an overheard conversation at an Austin restaurant, and the gorgeously textured "Eminence, Kentucky" reflect the same dirt-road view of life limned with traces of the surreal that permeate the writings of such masterful Southern novelists as Larry Brown and Barry Hannah, both of whom hail from Oxford, Mississippi. Coincidentally that's also the home of Mize's label Big Legal Mess, a subsidiary of Fat Possum Records.
Mize has spent most of his 57 years wandering among such characters. As an insurance adjuster traveling the South and West for more than 30 years, he's seen people at their most resilient and at their most vulnerable.
"I've been through nine hurricanes and I don't know how many tornadoes, and seen way too many car wrecks where people got killed," Mize says in his big, bawling voice. "I saw two guys carrying a rolled up carpet with a pair of legs sticking out of it after Hurricane Andrew in Florida … and all kinds of people pushed to their limit. That's connected to the songs I write. I always keep my antennae up. All of my tunes boil down to one thing, and that's observations."
Listening to Jim Mize, it's easy to observe that despite all of the harsh reality Mize has experienced, he's still an incurable romantic. "Rabbit Hole," which kick-starts the album with Mize's hypnotic, staccato guitar, is about falling helplessly into the vortex of love. And "This Moment With You" captures the ignition point of blissful, all-consuming infatuation.  The emotional flip side is the bare-knuckled "Bleed," in which a couple slices each other's hearts with intractably venomous words.
"I enjoy love songs the most, whether they're happy or sad," Mize muses. "With love, you can never run out of things to write about. But the most important thing is, my songs have to be honest. When I'm out there playing I believe every damn word that I'm singing."
Mize is joined by two fellow maverick Southern songwriter-guitarists on his third album: dusty blues modernist Jimbo Mathus (formerly of Squirrel Nut Zippers) and burgeoning American root-pop alchemist from Memphis John Paul Keith, who take turns as instrumental foil to Mize's raw-but-inventive riffing and expressionistic solos — a style he developed playing juke joints, sock hops and dive bars around his native Conway, Arkansas, which is 30 miles, but a world away, from the concrete corridors of state capitol Little Rock.
Mize still lives in Conway, although he spent time in Germany after faking his ID to enlist in the Army at age 17. And while the dirt road he grew up on is now paved, little else has changed. Despite Conway's bucolic college town status, in true outsider fashion Mize prefers keeping to himself. On Saturday afternoons, when his wife's gone grocery shopping, he can be found pacing the front porch of his house, cogitating over chord changes and the other makings of new songs. "That's my favorite time to write," he says. "Or at night in my living room over a toddy. I love the writing process and I like to write mostly when I'm by myself, which makes sense, because I've never really fit in, exactly, even when I was kid. I guess you could say I was a misfit."
Being a juvenile loner sharpened Mize's perspective as an artist. At age 12, while struggling to get a handle on guitar — "I never could copy what musicians played on records worth a damn," he offers — Mize fell in love for the first time. He lost his heart to Glenn Campbell's 1968 hit "Wichita Lineman," swooning for Jimmy Webb's sweeping, orchestral arrangement. Mize's affection for the song may have been ripened by the fact that his father was a wire chief crew for the telephone company, but "Wichita Lineman"'s combination punch of textural sweep and artful lyrics sent his head spinning and inspired Mize to spend his alone hours writing songs.
"From then on, I understood how powerful words could be in creating pictures and I understood that the notes on the guitar weren't as important as the sounds it could make," Mize attest. "Today I base my songs on the chords and riffs I come up with, but what I really do is think sonically." That explains Mize's arresting use of open tunings and slide guitar textures, as well as the adventurous route of his solos in numbers like "Eye to Eye," where Mize's guitar see-saws between two notes, dancing like the seductive Gypsy described in the song before exploding into a series of growling partial chords.
Mize didn't enter a recording studio until his late 30s, instead channeling his creative energy into stockpiling songs and occasional live performances. Initially both reflected his passion for the classic country music he heard on the radio and on TV, as well as the blues that seemingly crept out of the soil in Arkansas and Mississippi. As time passed, rock also slinked into his musical vocabulary and fellow eccentrics like Tom Waits and Junior Kimbrough took their place alongside Johnny Cash, Howlin' Wolf and Merle Haggard among Mize's influences.
Mize says his "big break" came in 1994, when he was cutting some demos at Fat Possum's studio in Water Valley, Mississippi with label co-owner Bruce Watson, who has since produced all of Mize's recordings. "Cary Hudson and Laurie Stirrat from the band Blue Mountain were there, and when they heard my song 'Let's Go Runnin' they decided to record it," he recounts. That well-loved tune appeared on Blue Mountain's 1995 disc Dog Days.
The new Jim Mize captures its namesake at the apex of his art and follows 2000's No Tell Moteland 2007's Release It to the Sky. Together they trace his evolution as an off-trail songwriter distilling his influences into an original voice of power and depth. Those recordings and his ongoing relationship with Blue Mountain, who also cut Mize's "Emily Smiles," have given Mize his own eager fan base. But so far he hasn't traveled beyond Arkansas' bordering states as a musician, limiting his extended forays to investigating insurance claims. Which is how he likes it … for now.
"The music business is tough," Mize observes. "My friends in bands tour, and I've got to admit that crowding into a van, sleeping on people's floors and eating bad food is not for me. I like livin' comfortable."
But Mize plans to become a guitar-toting road dog in just a few years. "When I retire I'll have a good pension so I can stay in decent hotels and eat good food. By then, I'll have a bunch more songs, too. I'll be ready to roll the dice and live my dream!"
---