Jimmy "Duck" Holmes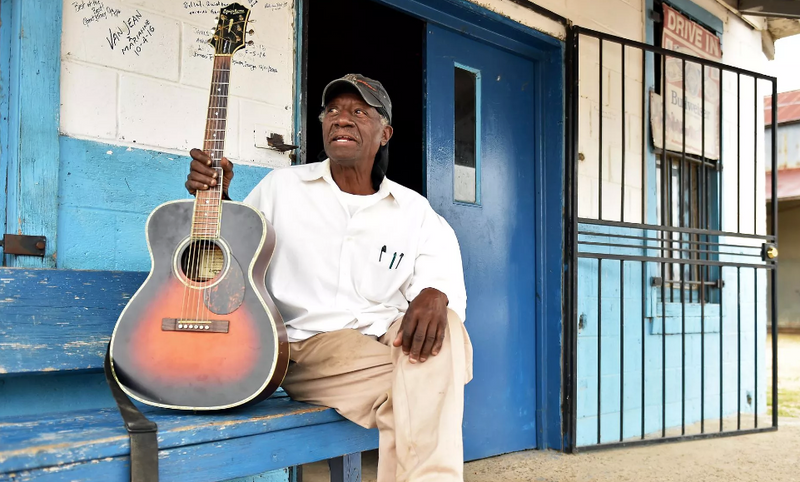 Bentonia, MS: home to the legendary Skip James, famous for his falsetto vocals and his mastery of a rare blues guitar style that has become known as the "Bentonia style".
The origin of the style goes back to a chance meeting between Bentonian Henry Stuckey and black Bahamian soldiers in France during World War I. Stuckey learned an odd E-minor guitar tuning from the Bahamians and when he returned home taught it to his brother Jacob and to Skip James and the younger Jack Owens.
As these musicians traded ideas in the semi-isolated area of Bentonia, James and Owens perfected the style by adding dark, introspective lyrics. With his overwhelming personality coming through his recordings, James created a haunting and unique sound that continues to influence blues and folk music today. Though James died in 1969 and Owens in 1997, this local style is preserved in the playing of Duck Holmes.
While Duck comes from a much younger generation, it seems he was destined to soak up the sounds and feel of the Bentonia style whether he was trying to or not. Born Jimmy Charles Holmes on July 28, 1947, Duck grew up two houses down from Henry and Jacob Stuckey. In 1948, his mother and father opened the Blue Front Café where they served cold drinks and offered live music. This music was often provided by the Stuckeys or Jack Owens and harmonica player Bud Spires.
When Duck took over the Blue Front in 1970, he began arranging for Jack and Bud to play more regularly at the café. With the encouragement of Jack, Duck began honing his skills and has emerged as one of, if not the only living practitioners of the Bentonia style.
And you can still hear it played today at The Blue Front Café.
---