Lover!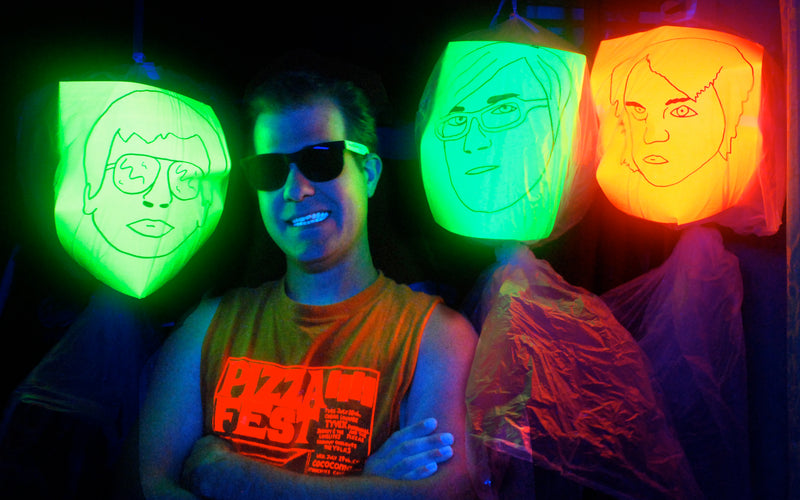 If your idea of classic modern pop music hasn't been jaded by the obscurity-obsessed tendencies of material pursuits, then it's always a nice feeling to relax with great rock'n'roll that hits the spot so well every once in a while. Take for example, the solidly southern, now naturally northern sounds of Lover! and how they stir your soul, and it's not hard to see why pop music this good gets you in the gut every time. Whether it's one of their somber Donovan-esque rainy day mod explosions, or a chilling, yet buzzsaw-shredding powerpop tornado, Lover! are here, and now, and once you really plug into them, you'll realize they're everywhere you want to be.
At last, Memphis' underdog pop star Rich Crook has found his true calling: delicately desecrating the three-minute rule in hit songwriting, and exploding forth with an unprecedented susceptibility that still brandishes it's dimly flickering punk roots in between hot flashes. As Crook's new primary musical vehicle, Lover! exceeds all expectations from this one-time member of such projectile punk pioneers, Reatards and Lost Sounds. You could tell even from his later involvement with Viva L'American Death Ray and collaborating with Jack Oblivian in The Knaughty Knights, Crook had way too much potential to stand back and let the world pass him by, and this why Lover! needs to be, and why it thrives
Kicking off a unrelenting release schedule with the first Lover! LP in Spring 2007, it was instantly official that Crook had been keeping his ability as a bandleader in the shadows for far too long. Mouths hung open, fists were continually pumped, beers just kept cracking, and once just was never enough.
Covering Split Enz and Guns & Roses without a lick of irony? You can tell how well the deconstruction works after one listen, and without bringing it to attention, you may not even notice they're not originals. Just one great record after another, and with the volume of releases in the works, it was wonderfully overwhelming. The extraneous songs that didn't end up on the follow-up 'Gathered in the Graveyard' LP erupted into a barrage of modern-classic 7″ singles, all within a 12-month span of time, and continuously blowing the minds of everyone that could keep up.
Recorded in Mississippi this Summer, these refined yet unrestrained new recordings feature all new broken ground, and an even farther expansion of the definitive pop terminology. So if you think you can handle this kind of purity, this kind of cranial-crushing pop creativity, then strap yourself to the wall and turn it up, and you might just be ready for Lover!
---