Sam Frazier Jr.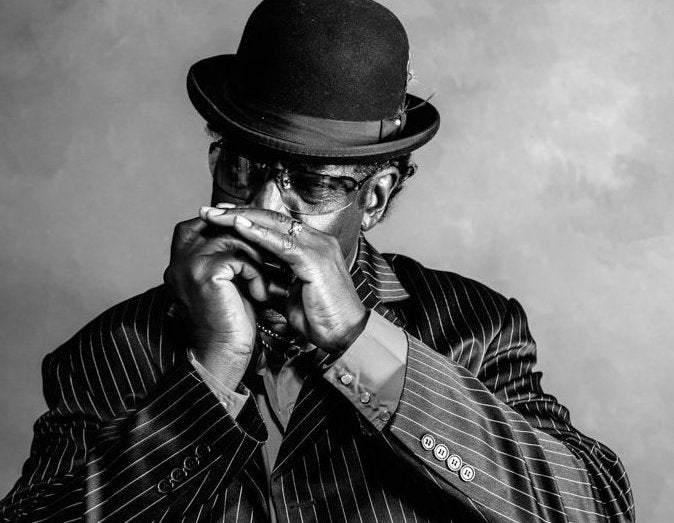 In the story of southern soul the studios of Memphis and Alabama's Muscle Shoals region loom large, effectively overshadowing other musical scenes in the South, including that of Birmingham, Alabama. A leading force in the soul movement there was Neal Hemphill, who set up his Sound of Birmingham production studio in the basement of his plumbing shop in the mid-'60s and continued recording until a decade later, when health problems led him to sell the operation.
Hemphill achieved his greatest success in 1972 when Birmingham native Frederick Knight's "I've Been Lonely So Long" climbed high in the R&B charts after Hemphill leased it to Stax. The production company, chronicled in great detail by John Ciba on Rabbit Factory's two-part "Birmingham Sound: The Soul of Neal Hemphill," also captured righteous sides by soul heavyweights Ralph "Soul" Jackson, Roscoe Robinson, and Sam Dees.
Another regular at the studio was Sam Frazier, Jr., whose power as a southern soul vocalist is captured here in recordings he made between 1969 and 1971. Frazier never gained much traction in the charts, but it wasn't for lack of trying. Hemphill issued a single by Frazier on his S.O.B. (Sound of Birmingham) label, and later leased others to California's Goodie Train, the New York-based Darnell and Frederick Knight's own Birmingham-based Juana.
By the dawn of the disco era Frazier's soul career was essentially over, but it was hardly the end of his music career. His interest in soul had stemmed from his double passions for downhome blues and country, both of which he's performed actively for the past half-century.
Born in 1943, Frazier was raised in Edgewater, a dozen miles west of Birmingham, where his father worked in the local coal mine and his mother sold barbecue and corn whiskey out of the family home. Frazier heard his first blues via the Rockola jukebox in the kitchen, and was inspired to master the harmonica after visits to the house by blues legends Sonny Boy Williamson 2 and Slim Harpo.
"When Sonny Boy and Slim got those harps there wasn't no sleepin' for me," recalls Frazier. "Nothing but just them and a harp and pattin' his foot."
Around 15 Frazier picked up the guitar, and was soon playing for tips at local gatherings. Like his idol Jimmy Reed he began performing with a harmonica rack, and by his late teens was working as a one-man band, playing a bass drum and a hihat cymbal with his feet.
"All my body was moving—I was beating and playing and singing and blowing, and I had it together. It was tight."
He taught his sister Carolyn to accompany him on electric bass, and it wasn't long before they scored a record contract. Birmingham deejay Maurice "The Thin Man" King introduced them to Bronx-based label owner Zelma "Zell" Sanders, then visiting Alabama with her artist Clarence Ashe, and she arranged for them to move to New York City.
As "Carolyn & Sam" they cut a lone single in 1966 for Sanders' Zell label— "Congratulations Honey" b/w "You Got Me Up Tight"—and also backed Ashe on a session. Aside from a few choice gigs around the NYC area, though, they gained little notice and Frazier returned to Alabama the following year.
Once resettled in Birmingham Frazier began singing and playing bass with the gospel group the Golden Hummingbirds, performing blues and R&B at Africa, American nightclubs, and singing country at honky tonks, including the popular Sonny Duke's. And not long after Charlie Pride's debut appearance in 1967 on the Grand Ole Opry Frazier soon became a regular on Birmingham's premier country showcase, The Country Boy Eddie (Burns) Show, which aired on regional TV for nearly forty years.
Frazier's reputation reached Hemphill, who began calling him in to cut rough demos for aspiring songwriters. Frazier ended up recording some of these songs, while others here came from the pens of studio regulars including Ralph "Soul" Jackson (both "Take Me Back" and "Set Me Free") and guitarist/producer Jerry Weaver.
The topics range widely, and the interracial harmony theme of "Black and White Love" seems particularly apropos given Frazier's comfort in the worlds of country and blues. The songs collected here demonstrate Frazier's ability to tackle a wide variety of soul styles, though a commonality to his approach is restraint.
"I'm not a shouter, you've got to sing with feeling," explains Frazier, who expresses his admiration for Joe Simon, Bobby Womack, Arthur Alexander and Bobby "Blue" Bland, whose 1959 hit "I'll Take Care of You" he covers here. All those artists recorded in the country-soul subgenre, which Frazier contributes to here via "Low Down and Loneliness," the dobro-flavored "Mama Said She Ain't Here," and "I Got to Tell Someone."
The last of Frazier's soul singles was issued in 1976, by which time he was thoroughly ensconced on a country career. He released a country single, "Cabbage Man," for the Alabama/Mississippi-based Missile label—it was his signature song on the TV show, where he was billed as "Cabbage Man." Frazier had a shot at fame when he won a round performing Billy Joe Shaver's "Old Chunk of Coal" on the nationally broadcast show "You Can Be A Star," but recalls that he blew his winning chances the next round when he played a blues song.
The attention did lead, though, to an offer to move to California, and in 1987 Frazier recorded an album for the Torrance-based Blue Rock label, "Big Sam Sings Country," under the moniker "Mr. Wrong: Pride of Alabama." The label followed up with the LP "Sam Frazier Plays the Blues," and a single from the record ended up in the hands of deejay Johnny Otis, who invited Frazier to join his Johnny Otis Revue. Frazier played gigs with the band, but says he left the group because he was assigned the role of singing soul in an over-the-top manner a la Wilson Pickett or James Brown.
While working as the manager of a trailer park Frazier began performing in Las Vegas and elsewhere together with one of his neighbors, Gilbert Gauthier, a Neil Diamond and Frank Sinatra tribute artist—Frazier notes in his sets that he stuck to blues and country.
In 2006 Frazier returned home to take care of relatives, and unsurprisingly jumped back into the local music scene. In recent years he's also been working with the North Carolina-based Music Maker Relief Foundation, which recently released the newly recorded album "Cabbage Man," a collection of country and blues produced by another genre jumper, Dom Flemons.
Frazier says that he still enjoys the songs collected here, and hopes that this release will result in the attention they deserved the first time around.
SCOTT BARRETTA, Greenwood, Mississippi
---