Will Sexton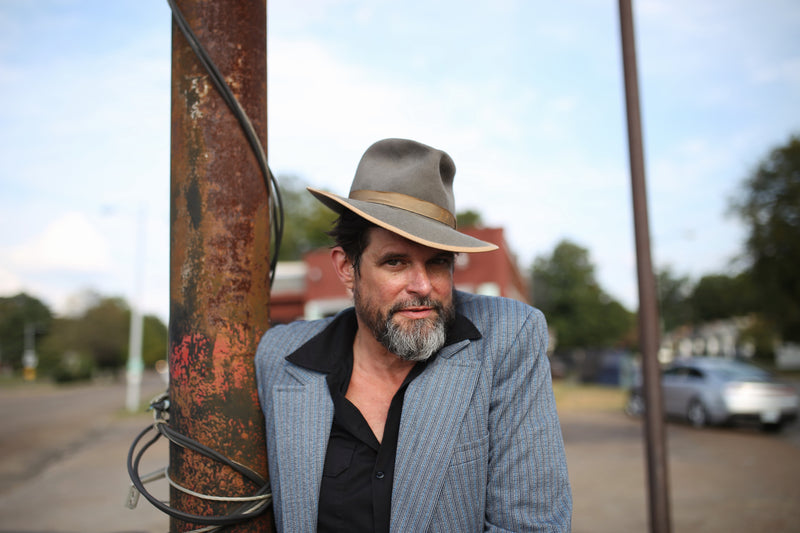 MEMPHIS, Tenn. -- "Most of my life," says Will Sexton, "I've complicated things musically. But, nowadays,  I have a different approach: it's less cerebral, and more about gut and soul."  

It's been an evolution years in the making for revered guitarist/vocalist Sexton, who launched his career when he still in grade school. Now the towering Texan, nearing age 50, has brought this new philosophy to bear on his first solo record in a decade, Don't Walk the Darkness.  
Along with older brother Charlie, the San Antonio-born Sexton was a musical prodigy who eventually moved to Austin, coming of age in the city's hothouse environment. Playing with iconic Lone Star figures such as Doug Sahm, Joe Ely, Roky Erickson and Stevie Ray Vaughan, he scored a major label deal while still in his teens fronting Will and The Kill. 
Over the past three decades, Sexton has grown into a skilled musical polymath: an esteemed writer, producer, session player and solo artist with a string of acclaimed LPs to his credit.  
Don't Walk the Darkness marks a belated return to his solo career, but represents something even more profound for Sexton: a personal and musical rebirth following a stroke he suffered in 2009, which robbed him of much of his verbal and language abilities, and even forced him to reconsider his approach to playing guitar. 
During that time, Sexton also traded one music capital in Austin for another, moving to Memphis in 2013. His shift to the Bluff City was prompted by love: he met and eventually married fellow singer-songwriter and frequent collaborator Amy LaVere. 
Settling in Memphis, Sexton would become a lynchpin for artists on the Fat Possum-distributed Big Legal Mess and D-Vine Spirituals labels, leading the house band at producer Bruce Watson's Delta-Sonic Sound studio. "Memphis is an important part of what I've become," enthuses Sexton. "I've been able to immerse myself and tune my ear to what makes this place so magical – and it's really about the amazing musicians here." 
For his new album, Sexton set up with Watson at Delta-Sonic, combining his new digs in Memphis along with a crew of old favorites from New Orleans, tapping Crescent City legends The Iguanas to serve as his main backing band.  
"The Iguanas were always a fixture at the Continental Club in Austin and I would go see them and sit in, and was just a big fan," says Sexton. "I felt like this record would be the perfect opportunity to collaborate with them. They're a such a natural entity, like this powerful train that glides itself along the track. That meant I only had to worry about singing and playing a little guitar." 
As part of his new quicksilver approach to recording, Sexton and company cut basic tracks for the entire album in a pair of fast five-hour sessions. 
"The record I've really always loved is John Hiatt's Bring the Family," notes Sexton. "That's what I was envisioning for my album -- something in the spirit of that, which was a really live, dynamic record." 
While the bulk of Darkness was written in the lead-up to its recording, two key tracks, are unheard numbers from Sexton's back catalog. The soulful "Only Forever" was a lost gem from his days staff song writer in the early-'90s. The other, "Don't Take it From Me," was co-written with late outlaw country icon Waylon Jennings in 2001. "We wrote it right before he passed away," recalls Sexton. "Neither of those songs had been cut before and I thought it was important that they should have a life and get out into the world." 
The balance of the album finds Sexton finding inspiration in the more interesting corners of Americana, whether it's the ghostly gospel incantations of the opener/title track, the hypnotic blues shuffle of "What My Baby Don't Know" or the R&B anthemics of "Temptations Call." Elsewhere, Sexton's roots show on the Tex-Mex romancer "Witness," the Vox-organ-flecked "Mess Around With My Mind," and the horn-fueled meditation "The Whole Story." 
"Being from San Antonio, those West Side horns and the Doug Sham realm, that's something I know and love. It's in my bones," says Sexton, who deploys the talents of sax man Art Edmaiston, vocalists the Barnes Brothers and soul diva Susan Marshall on the record as well. "The whole thing with this album it's more feel-good music than overthought compositions," says Sexton. "It's the right place for me to be." 
For Sexton, resuming his solo career after a long break, feels like both a reboot and  culmination of his musical journey." 
"I just figured it was time for me to reconnect with singing and fronting a band, something I haven't done in a long time," he says. "This is a new start for me, but also kind of the logical extension of everything I've been doing since I was 9 years old. The music is brand new, but I'm the same old me."
---