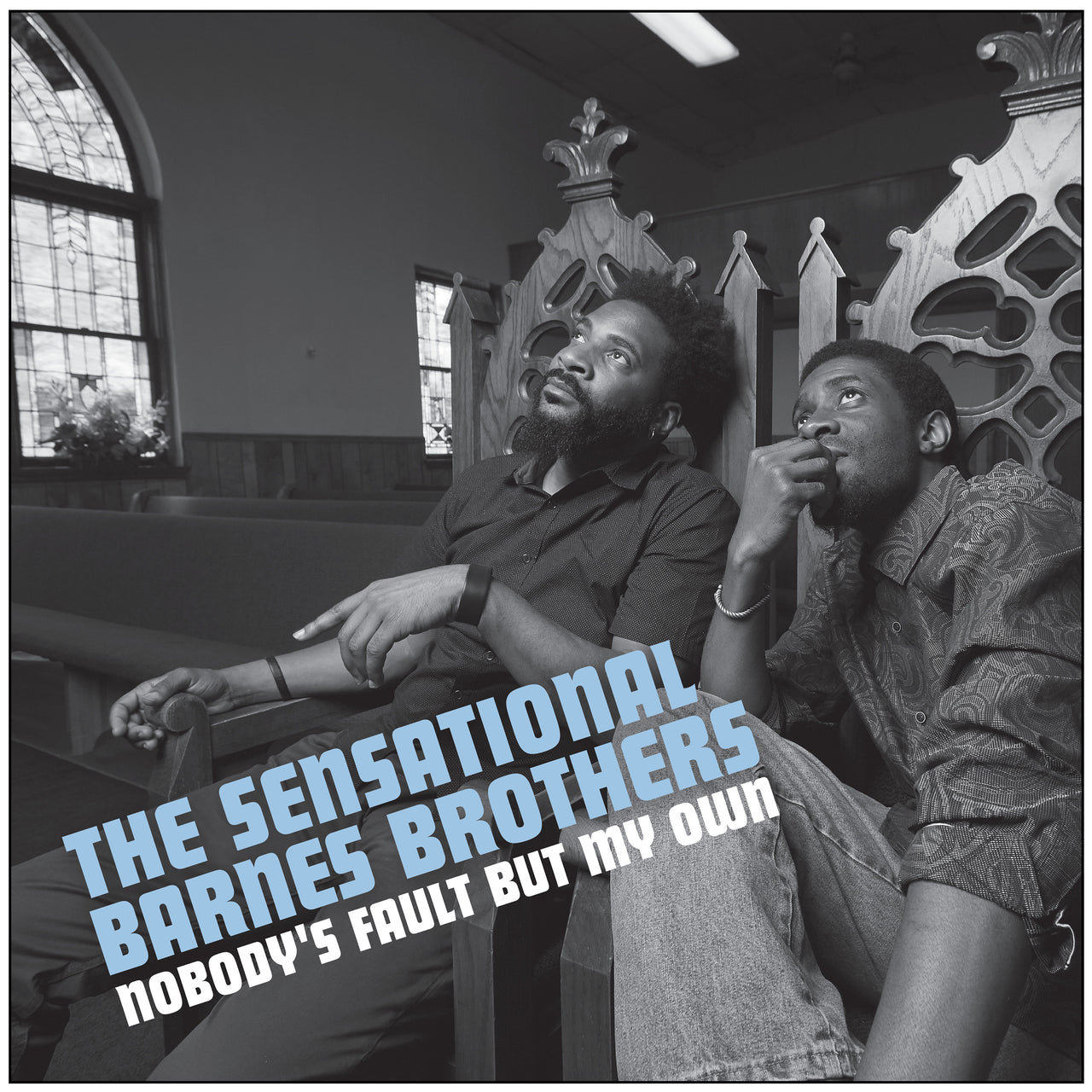 Out everywhere September 20th on Bible & Tire Recording Company
Tracklist:
I'm Trying To Go Home
I Feel Good
Why Am I Treated so Bad
I Made It Over
Nobody's Fault But My Own
Let It Be Good
I Won't Have To Cry No More
Here Am I
It's Your Life
Beautiful Mansion
Try The Lord
The Sensational Barnes Brothers - An Introduction by Alex Greene 
"Son, just keep on, keep doing what you're doing. Let it be good," sings the father, and his grown children, standing close by, echo his words. "Let it be good." It's a moment of faith in both God and the father, for the younger ones seem to know the message of this song in their hearts already. They are already living it. 
To some it may be only a track on an album, the first release of the new Bible and Tire Recording Co. label. But for the Sensational Barnes Brothers, it expresses an unbreakable bond with their own father, Calvin "Duke" Barnes. As with all the songs on this, their debut LP, produced by Bruce Watson of Bible and Tire Recording Co./Big Legal Mess Records at Delta-Sonic Studios in Memphis, it was chosen from the oft-forgotten 1970s catalog of the Designer Records label, but it could well have been written by the Barnes family themselves. For there, in a nutshell, are all the bonds that hold them close.
Chris Barnes was a little stunned to hear the song as they combed through hundreds of Designer tracks with Watson one day. "We were listening to the song and the guy on the recording sounded just like my daddy. I was like, 'We gotta do this song!' And the message really stuck out to us."
"It's crazy for that to be the song he sang with us. You can hear all the conversations he used to have with you through that one piece of music," adds brother Courtney. It's a poignant moment, for only three months after the brothers invited him to sing on their album, Duke Barnes passed away. 
"It was out of the blue—very unexpected. He was 65. Fairly young, really," notes Chris.
"You're always counting your days, learning how to number your days," reflects Courtney. "Count it all joy, and we're thankful for the life that he lived and that he gave."
And give he did, as Duke made his way through the world with his beloved wife Deborah. She was the daughter of Rev. James L. Gleese, who founded the Beale Street Mission for Blacks/Negroes, and music came to her even more naturally. But though she had studied piano and voice at what was then Memphis State University, she wasn't prepared when the phone rang in the Gleese household one day. "Hello, this is Ray Charles," said the voice on the line. She answered the call and for a time became a Raelette, one of the background singers for the genius of soul, before love, marriage and children demanded that she leave the touring life behind. 
But that didn't stop her from counting it all joy. Indeed, Duke and Deborah Barnes became a sought-after duo around Memphis, especially in the Seventh Day Adventist community, singing at concerts, church events and weddings. In 1985, "God Will Take Care of You," their single on Three Angels Records, got a fair amount of radio play. And over the years, flowers blossomed in their garden, by the name of Calvin, Jr., Chris, and Carla. "And I was the one who came regardless," laughs Courtney. "Up there it was like, 'Y'all gonna keep acting like you're acting, I'm gonna send somebody!'"  
By the 1990s, the four youngsters, their diverse musical talents steadily encouraged and coached by the parents, were assembled into a performing group in their own right, known as Joy. "We performed a lot," recalls Courtney. "In our performances, my mom and dad would do the first section. They would sing, and we would be the background. Then in the next set it flipped over to where the children would do our thing, and that would be the Barnes Family concert." 
The family carried on as musical collaborators for years. Indeed, they still play and sing together, even with their father gone. "Eventually we let the name Joy go," says Courtney. "We started singing together as just the Barnes Family. And in 2015 we released an album, Family Tree. With the four of us and Calvin's wife Mischa. Now Chris and I are doing the Sensational Barnes Brothers as a duo, and it's interesting. I really enjoy it! But we've always sung together. We've been a part of different groups and played in different bands — just a lot of different connections and entities."
This is an understatement. For a time, Courtney played with a rock band chiefly influenced by Disturbed and Dream Theater. Now he and Chris, on drums, percussion, and vocals, front Black Cream, which is reinventing the classic power trio sound. Chris has sung background vocals for the Bar Kays, and now has joined their longtime singer Larry Dodson in the launch of his solo career. Calvin, Jr., for his part, is a gifted instrumentalist, singer, and producer. Sister Carla, the only sibling to have left Memphis, still sings. Music is clearly a family calling. 
And now, as the Sensational Barnes Brothers, they are bringing it all back home to music they grew up with. Says Courtney, "This new record is more edgy. Our parents taught us how to harmonize, to be more controlled. So this record opens us up. It's more raw. I'm usually not a squaller, unless I'm excited." 
Chris adds, "It allowed us to step outside of ourselves, with this free flowing, rugged, edgy kind of music. It's gospel, but it's not necessarily for just a Christian audience even. You can sing this at festivals and parks, anywhere. And this type of gospel for us was natural, because we heard this music growing up.That's what made it so fun, being able to mimic what we heard back in the day and bring it to life." 
Courtney chimes in, "Even today in our church. You got older people there, and they go into some stuff where only the organist or the piano player know it. And yet even then, it's dancing music." And so, inspired by their shared past, fueled by harmonies that resonate with both their blood and their kindred souls, the brothers see themselves singing, playing, and dancing for a long time coming.