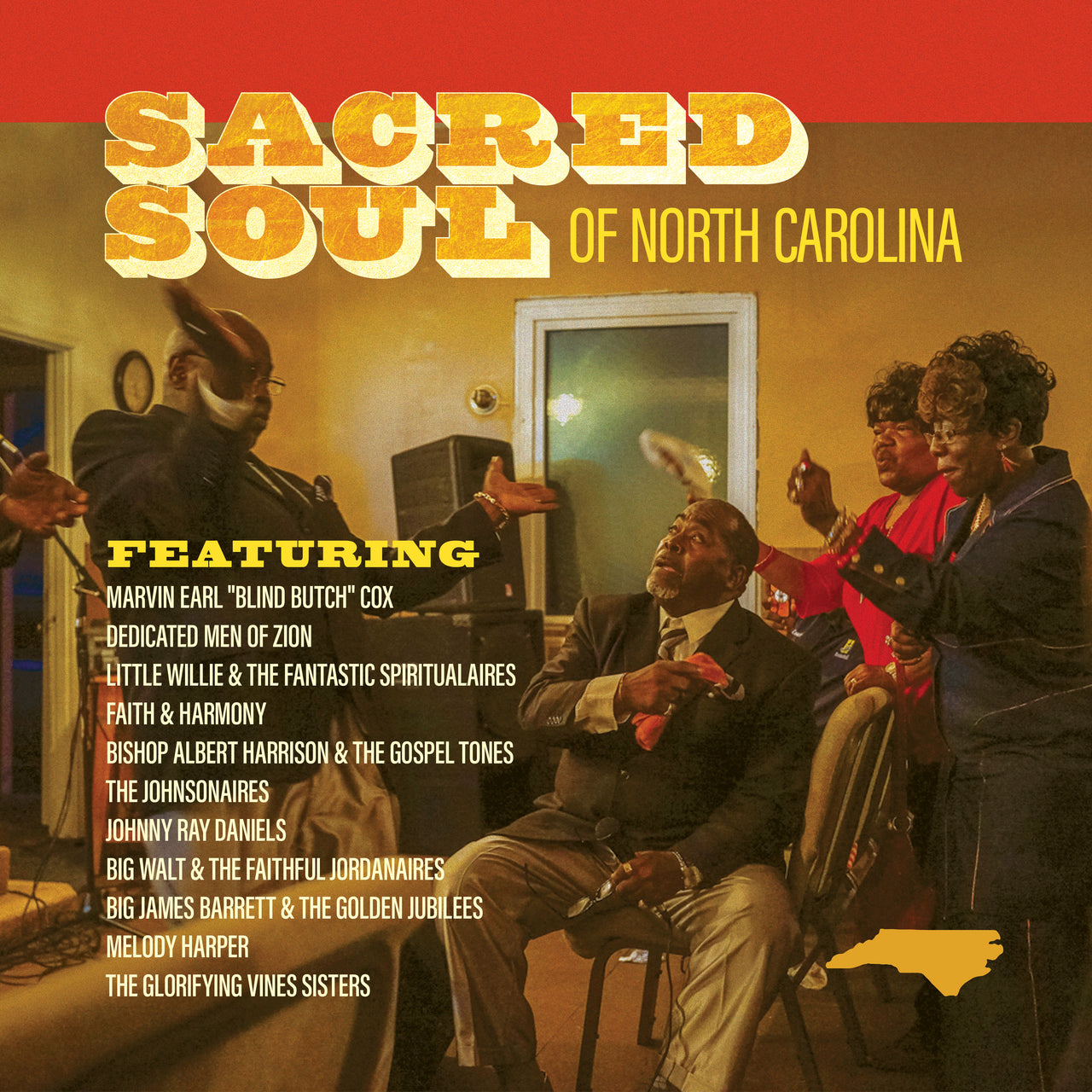 Eleven groups in eight days. A marathon recording session in a makeshift storefront studio in a 100-year-old building in the tiny Eastern North Carolina town of Fountain. Once the idea for the project was in place, Alice Vines of the Glorifying Vines Sisters started calling local musicians. It didn't take her long to line up almost a dozen groups to come lift their voices and represent the region's unique Sacred Soul traditions.
When the groups on this record gathered to record in February of 2020, they couldn't have known that the world was on the heels of a global pandemic, or that the year would bring great turmoil and social upheavals. But in the reality created by gospel songs even the greatest of trials are not surprising, nor can they be ultimately devastating. Every time singers stepped up to the mic during these sessions, they created a sonic world where no amount of bad news can undermine the truth of The Good News. Even when "you can't really see a solution to what you're dealing with at the moment," says Kiamber Daniels of Faith and Harmony, singing gospel music will remind you, "hey, I'm still here; I got what it takes to make it through this. It will give you a sense of peace."
Produced by Bruce Watson (Fat Possum/Big Legal Mess/Bible & Tire), this collection of sacred soul recordings of Eastern North Carolinian gospel groups is a one of a kind exploration. With a rich heritage of family gospel music, the artists in this area have been honing their craft over generations and have their own way of making the material original and unique. This is Sacred Soul of North Carolina.
Tracklist
Can't Turn Me Around - Dedicated Men of Zion

It's A Shame - Dedicated Men of Zion

Tell It All To Jesus - The Vines Sisters

Somewhere To Lay My Head - Johnny Ray Daniels

Glory Glory - Johnny Ray Daniels

Tell It - Big James Barrett & The Golden Jubilees

Use Me Lord - Big James Barrett & The Golden Jubilees

Ask God In Faith - Big Walt & The Faithful Jordanairs

Victory - Faith & Harmony

We Will Work - Faith & Harmony

He's Coming Again - The Johnsonairs

Trying To Make It - The Johnsonairs

Shake Me - Bishop Albert Harrison & The Gospel Tones

Stand Up - Bishop Albert Harrison & The Gospel Tones

I Want To Be Ready - Little Willie & The Fantastic Spiritualaires

Have You Tried Jesus - Little Willie & The Fantastic Spiritualaires

No Ways Tired - Marvin Earl "Blind Butch" Cox

Amazing Grace - Melody Harper