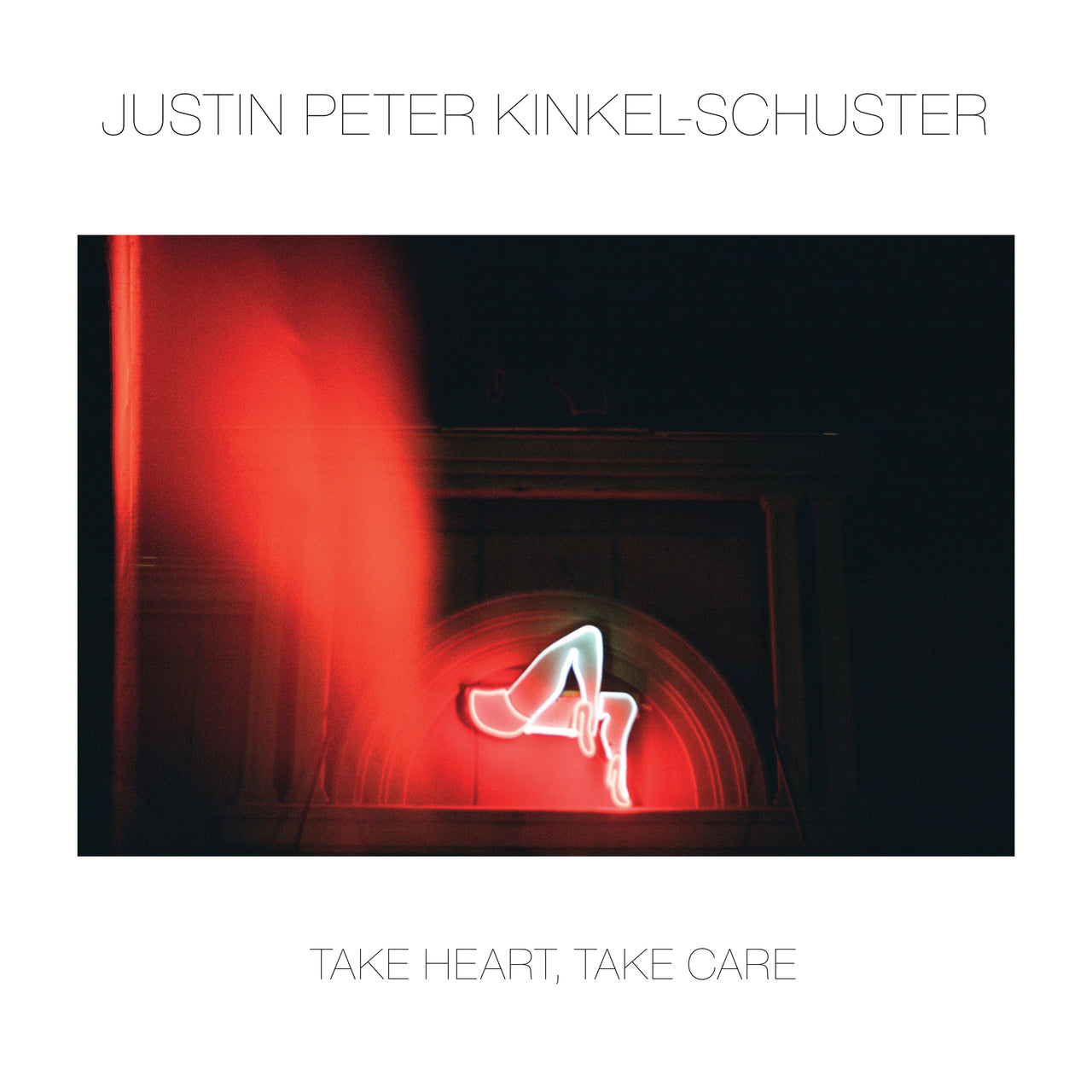 ***LP ONLY***
The new album "Take Heart, Take Care" from Justin Peter Kinkel-Schuster (Water Liars, Marie/Lepanto) out everywhere August 30th, 2019 on Big Legal Mess Records.
Tracklist:
Plenty Wonder

Friend of Mine

Flies on Shit

Cut Your Teeth

Take Heart, Take Care

Educated Guesses

Poor Relations

Name What You Are

Morning Waltz

Held My Own
William Boyle-
The best artists teach us how to live. The title of Justin Peter Kinkel-Schuster's new LP is a double-edged directive: Take Heart, Take Care. Either way you cut it—whether he's wishing you the best or reminding you what to take along when you split town—we're in deeply hopeful territory. This album is a call-to-arms for those of us given over to despair not to throw in the towel. It's a place you can take solace in the midst of chaos and collapse, a pal who will put you up and feed you and remind you of the good things no matter how close to the ledge you are. It takes pain and transforms it into something that can be put to use. It's like good summer light on the horizon. These dreadful days, I promise, it'll make for a damn good and necessary companion.
There's not a single track here that doesn't deserve disciplined attention. Kinkel-Schuster's voice soars and brightens even the darkest corners. Often a song that seems destined to break for the bottom of things rises into the air, as if touched by magic.  
It's Kinkel-Schuster's words that, as always, strike hardest. "Time is the mender / whose strange mechanics / yet untold / bid us rise entwined together," he sings on the title track. Take a second to appreciate the ragged worldliness of that line. He's not only a songwriter cut from the same cloth as Willy Vlautin and Jason Molina but a poet whose blood is dosed with the sublime beauty of Frank Stanford and Mary Oliver, whose lines sing even disconnected from all melody.    
Kinkel-Schuster isn't only one of our greatest songwriters; he's also one of our greatest empaths. This ability to access deceptively simple moments and turn them into epiphanies about kindness and wonder and human communion sets him apart from a world of songwriters whose only interest is the slick image or the well-crafted turn of phrase. His songs are reminiscent of William Eggleston's photos, in that there's a whole entire mysterious world under the surface, a story under every rock left unturned and every slash of light, behind every character we meet, every indecisive mother, every haunted figure on the edges of the song, behind every lesson his unnamed narrators impart to us.
This isn't an album about wallowing in desperation and loss and failure. It isn't an album to listen to after a bad night at the bar. This is an album that pushes us to hold our own, to continue on no matter what. This is beautiful and essential work, well-built, enduring. "There's plenty of wonder in this world still to be found," Kinkel-Schuster sings on the opener, "Plenty Wonder." And, man, I can't help but saying that this album is exactly the kind of wonderful thing I'm so thankful for.